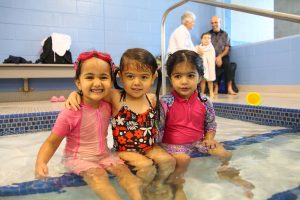 Accelerate your child's progress this summer!
The Accelerated Program is offered exclusively in the Summer Season at Making Waves. Children enrolled in one of these sessions will come at the same time, Monday through Friday for a two week period. There are convenient morning and evening options to suit every schedule.
Contact Us to learn more or register.
Benefits:
Daily practice leads to faster progress!
Great for new swimmers and young children to get comfortable in the water
Best Value – your child will make more progress in a shorter period of time
Only a two week commitment during the busy summer months!
2018 Dates:

Summer Accelerated 1: July 2nd – July 13th
Summer Accelerated 2: July 16th – July 27th
Summer Accelerated 3: July 30th – August 10th
Summer Accelerated 4: August 13th – August 24th
Summer Accelerated 5: August 27th – August 31st
See our Calendar for other important dates!