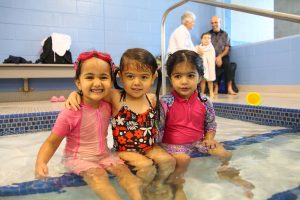 Accelerate your child's progress this summer!
The Accelerated Program is offered exclusively in the Summer Season at Making Waves. Children enrolled in one of these sessions will come for a 30 minute lesson at the same time each weekday for a two week period. There are convenient Monday through Friday, morning and evening options to suit every schedule.
Benefits:
Daily practice leads to faster progress!
Great for new swimmers and young children to get comfortable in the water
Best Value – your child will make more progress in a shorter period of time
Only a two week commitment during the busy summer months!
2018 Dates:
Summer Accelerated 1: July 2nd – July 13th
Summer Accelerated 2: July 16th – July 27th
Summer Accelerated 3: July 30th – August 10th
Summer Accelerated 4: August 13th – August 24th
Summer Accelerated 5: August 27th – August 31st
See our Calendar for other important dates!
For schedule flexibility, we also continue to offer our regular once a week program.
Contact Us to learn more!